---
Fast Open Folders
If you have several different folders that you go to often, you may set them up as a Fast Folder.

Once set up, you may quickly get to these folders by one of these three ways: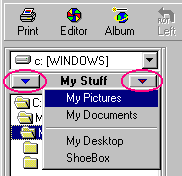 Click the Red down arrow, (shown above on the My Stuff toolbar).

Click F1, F2, F3, F4 or F5.

Look in the File menu.

To setup a Fast Folder, do the following:
Navigate to the folder you want to setup.
Click the hammer on the toolbar, (Preferences).
When Preferences pops up, click the Folder tab
Follow the directions in the Folder tab.

If you click the Blue down arrow on the My Stuff toolbar, you may quickly access your My Pictures, My Documents etc.

You may also change these locations by looking in Preferences, (click the hammer and then look in the My Stuff tab).

Also See:
Where's My Pictures?
Find and View Photos






Home Privacy Policy PhotoELF Download PhotoELF