---
Make Great (inexpensive) Holiday Cards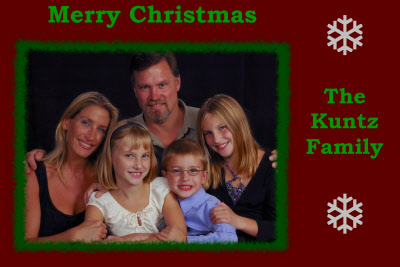 Using PhotoELF, you can layout and create your digital artwork for your own Holiday Card.
(Step by Step Instructions Below)

Ritz, Wal-Mart, Snapfish, Shutterfly and other in-store or on-line photo centers offer great deals, year round, to print 4 x 6 digital photos. Where they get you is at Christmas time, they charge a lot more for the 4 x 8 inch Holiday Prints.

4 x 8 Holiday Prints cost anywhere from .30 cents to .80 cents a piece depending on quantity ordered.

4 x 6 inch prints cost anywhere from .09 cents to .29 cents, if you shop around and watch for deals.

So why not save money? Get 4 x 6 Holiday Cards instead of 4 x 8

You can easily lay out a fun design in PhotoELF and save it as a 4 x 6 JPG (like the photo above) and bring it to Wal-Mart to have printed in less than an hour.

Example: We created the photo above using PhotoELF, we then saved it as a JPG image onto a Memory Card and went to Wal-Mart. We walked up to the photo center, plugged in the Memory card and 30 seconds later, we had ordered 100 - 4x6 inch photos at .15 cents a piece. We then went and did a little Christmas shopping and came back to the photo center 20 minutes later. All 100 photos were ready and waiting for us.



---
How to do this with PhotoELF
---
The following example assumes you are running PhotoELF version 4.0.64
---


Step 1:

Select the Photo or Photos you wish to use and load them into the PhotoELF Print Window


Click the CANV button in the upper right corner of the Print Window.
Turn CANVAS MODE ON
Select a 4 x 6 inch size
Select the Orientation you desire
Click and drag your photo to position and size it.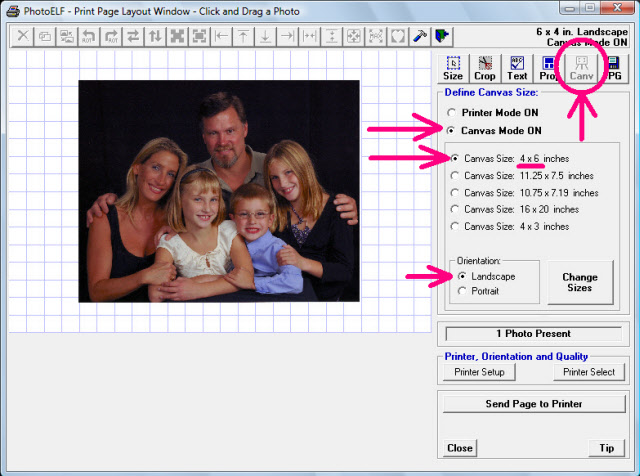 ---
Step 2:
Click the TEXT button in the upper right corner of the Print Window.
Add Text as desired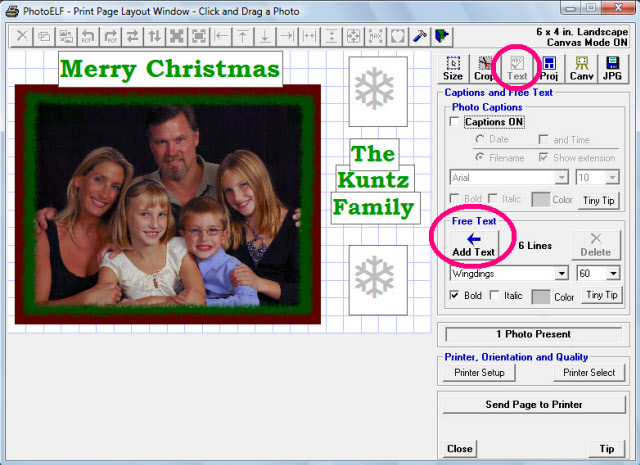 Hints:

The Snowflakes were added by selecting the Font named: "Wingdings" and then typing a Capital "T"

Other fun symbols can be added by trying various letters while using the Wingding Font.

In the above picture, we applied 2 masks to achieve the "garland" effect as a border.
More info on applying Masks


---
Step 3:
Click the JPG button in the upper right corner of the Print Window.
Choose a background color
Choose a size - We recommend X-Large
Click the Build Photo Button
Click the SAVE button and save the photo to your hard drive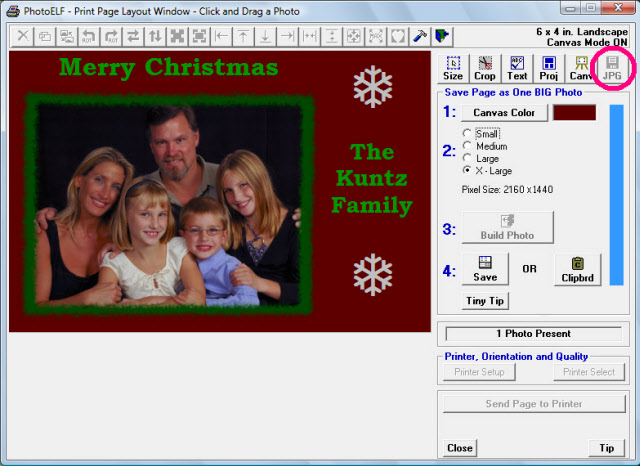 Hints:

To view how the picture will look before saving it, choose a size of SMALL and click the Build Photo button.

If you like the way it looks, choose X-Large and click the Build Photo button again before you save it. You want to save it as an X-Large in order to have good Print Quality.

If you don't like the way the photo looks, click any of the other Buttons in the upper right corner: SIZE, TEXT, CANV to re-arrange the photo, the size of the photo, the location of the text etc.


---


Step 4:

Now that you have your JPG image completed and saved to your hard drive, all you have to do, is one of the following:
Print it at home using PhotoELF
Upload it to a Photo Center and have it printed as a 4 x 6
Copy it to a memory card and bring it into a Photo Center for printing 4 x 6 images.
Home
Privacy Policy
PhotoELF
Download PhotoELF