---

Applying Masks

You may apply masks in PhotoELF's main program, in the Editor and in the Print Page Layout window (PPL).

If you are in the main program, look in the Edit menu for: Apply Mask.

In the Editor and in the PPL window, look for the following button:





If you are in the print window, you can also "Right Click" any photo and select: "Apply Mask"
---
| | | | | |
| --- | --- | --- | --- | --- |
| | + | | = | |
| Original | | Mask | | Finished |
Once the Mask window appears, you may do the following:



Drop down the list box to select a mask catagory.
In this case, we have selected the circle catagory.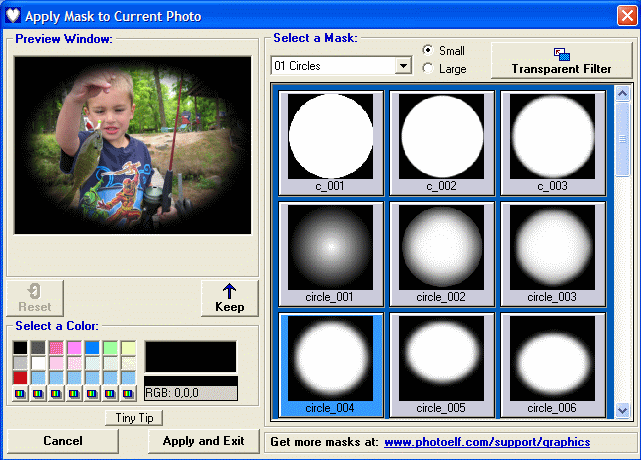 Click one of the mask thumbnails on the right, to see how it would look in the preview window.
Change the color of the mask by clicking a color in the color palette.
When ready, click the Apply and Exit button.
When you exit the Mask window, you will return to the previous screen: main program, Editor or PPL window, and the new image will be present.

After applying a mask, you must save the photo if you wish to keep it.





Home Privacy Policy PhotoELF Download PhotoELF