---
Create Magazine Photo Covers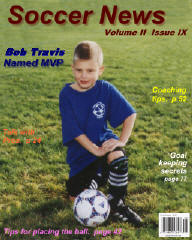 First, you will need to visit the following web page and download the FREE magazine cover masks:

http://www.photoelf.com/support/graphics/graphics.shtml

On the web page above, you will find download links for various masks. Download and install the magazine cover masks and while you are on that page, read the instructions and tips for using these masks.

This download will install dozens of magazine cover themes to choose.



How to use the Magazine Cover Masks:

First, Load your picture into the PhotoELF Editor.
Next, Click the MASK button on the toolbar.



The Mask window will then appear: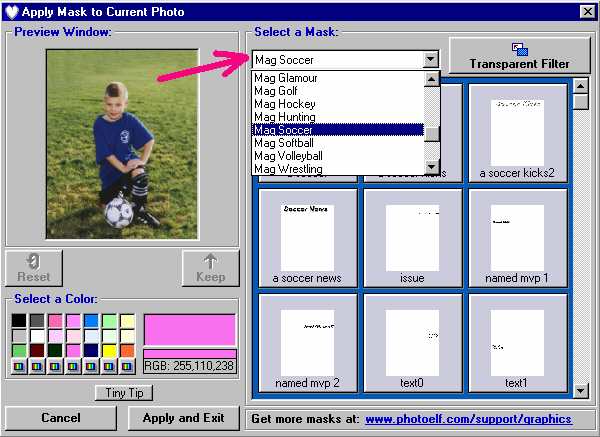 Drop down the Mask Catagory box and select a Magazine Mask Theme, such as: "Mag Soccer".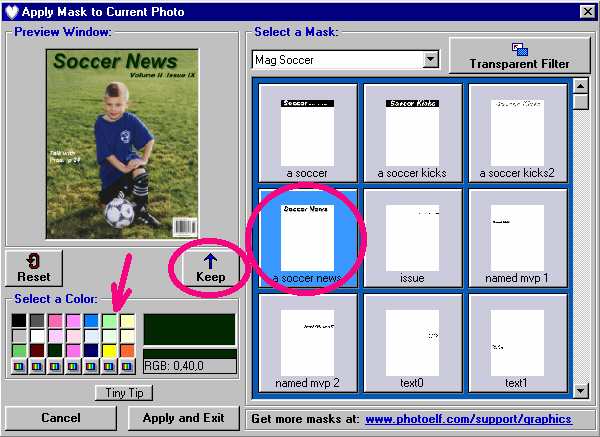 Then, click the thumbnails to choose a Title, Text and UPC symbol.

After clicking a thumbnail, that image or text will appear in the preview window. You should then choose a color for that image or text.

Once you are satisfied with the Color, click the KEEP button, to save that selection. You may then click another thumbnail to add more text.

Changing the color is important, so the text is readable against your pictures background color.

To add the UPC symbol, you will want to first KEEP the UPC-BLACK mask and choose Black as the color. Then add the UPC-White Mask and use White as the color.





Home Privacy Policy PhotoELF Download PhotoELF